By Kelley Harpin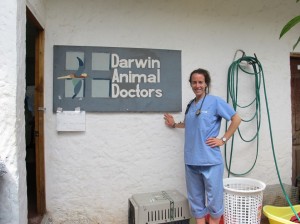 This summer, I was lucky enough to spend three weeks in the Galapagos Islands with Darwin Animal Doctors. I was eager to get some great clinical experience, help the local pet population, and help preserve unique native wildlife. The experience was everything I hoped for and more, filled with great people, beautiful scenery, grateful owners and their pets, and an unexpected new addition, Felix! Here is the story of Felix and how he landed himself in the United States!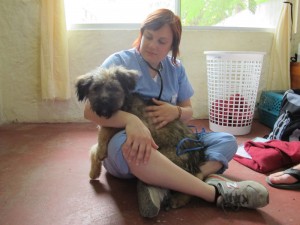 On the first Wednesday afternoon, a woman, Maria, stopped in, concerned with her neighbor's dog that was living in the highlands. The pup needed to be neutered and treated for fleas and ticks. Maria was very worried about getting him proper care. We said that with the owner's permission, we would gladly help. When I heard her talking about the dog, I imagined a hardy 'boar' dog prepared for the wilderness of the 'highlands' (which I had not visited yet). But about an hour later, in came Felix, a ridiculously cute fluffy terrier mix, deliriously nice and trusting of all. Maggie (a friend also volunteering) brought him into the clinic for his examination. He followed her in, and immediately after she sat down, he clumsily plopped himself in her lap. I had been working on our records on the floor, and looked up to see him happily surveying the room.  He was matted on his behind and covered in fleas and ticks but wagging his tail and giving doggy kisses to everyone. When I first saw him, I though to myself, what a funny puppy! Nothing like what I imagined, and he was so nice.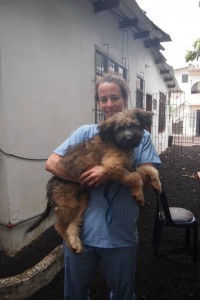 The day went on, and when everything was finished, Felix was still there long after all the other dogs were picked up by their owners. He was quietly lying in his cage curled up in a little ball in the back corner. I decided to take him out for a potty break and feed him. He did his business, and I got him a bowl of food. But before I could put the bowl on the ground, he got so excited that he hit it out of my hand, spilling all the small kibbles among the small lava stones in the patio. I picked up some of the kibbles and placed them back into the bowl, and he quickly gobbled them up as if there were a dozen and not three. I laughed at his goofiness but felt bad that mealtimes seemed to be so infrequent for him. After dinner, I couldn't resist keeping him out with us, so I let him out, and he ran over to me and put his extremely oversized paws on my lap, so I picked him up onto my lap. With content, he wiggled his little butt around a bit to get comfy, rested his head on my shoulder, and feel asleep for about a half hour. Maggie just chuckled and shook her head…she knew I was in love!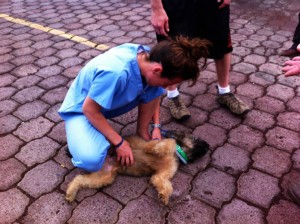 He stayed for another day; whenever I had a free minute I would take him out and give him some love. He was so good, never making a peep in his kennel and just wanting to sit in my lap or be nearby.  I thought about adopting him into my little pet family, as I had lost my dear golden friend Queenie in January, but he had an owner. Friday afternoon, Maria came to pick him up since he was still at the clinic. I went over the discharges with her and brought him to her. I told her I was going to miss him as he had become my little buddy over the past couple days. Maggie standing next to me mentioned how she thought I should bring him back with me, and Maria's eyes lit up as she said that would be an amazing idea. She loved him and had watched over him the past few months but she was growing more and more concerned with his shabby state. She knew his owner had tried to give him up in the past and knew this could be Felix's chance to get a good life. He spent his days tied to a tree and often had no food or water for days at a time. He had both external and internal parasites and was becoming matted. Maria had been trying to inform the owner about proper care, but the owner was not around to care for Felix sometimes for multiple days of the week. I told her I did love him, and if the owner was not really looking to keep him, of course I would take him into my home.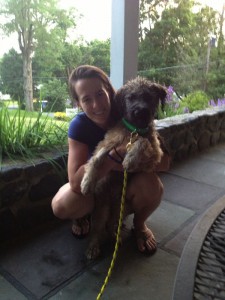 She left with him and told me she would call and let me know the owner's response. I didn't hear back until the next Wednesday; Maria was concerned she hadn't seen Felix since they discussed adopting him out, but she did tell the owner about DAD and our location. I didn't hear anything from her or the owner throughout the rest of my trip. I called Maria once more the day before I was leaving to let her know that I was thinking about him and if things changed in the future, Morgan would help her find him an appropriate home even if it wasn't off the island. I left saddened that I wouldn't see him again and worried about his fate. I had thought a lot about my decision to adopt him and had spoken about him with my boyfriend, Dan. We were both so excited about the possibility to adopt Felix, as we had both lost our older dogs in the past year and would be so happy to have a new adventure buddy.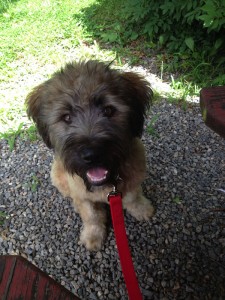 On my ride home for the airport, I was chatting with Dan about all the great experiences I had and the great people I had met. I told him I was sad about not being able to adopt Felix, but I reassured myself everything happens for a reason! Soon after we started talking about it, I received a Facebook message from Emma (a veterinarian volunteer), that Felix was at the clinic and his owner decided he would be better in a different home. Our president, Tod, was luckily still there and decided to take him back with him for me! I was so excited and couldn't believe it! I guess it was meant to be!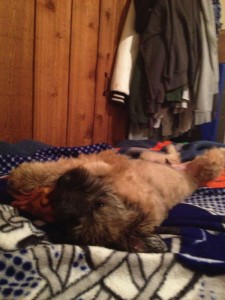 I picked him up late the night of his arrival in New Jersey with Maggie. He was so excited to see me, his tail not just wagging but doing full circles!  He slept most of the car ride home to Connecticut, resting his head on my lap. The next morning, I took him for his first adventure of many; a walk around a lake island my sister lives on, followed by a quick dip in the water. He pranced around the island beside one of his many new friends, Milly (my sister's Cairn terrier mix). We stopped by the water, and he went guns blazing after Milly right into the water until he realized it was not an extension of the land, and he quickly doggy paddled his way back. He came running out of the water doing puppy crazies around the beach with Milly. He was just so happy I couldn't be more pleased.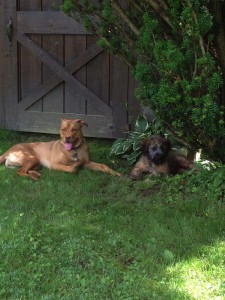 Dan adores him and loves having his new furry navigator out on the boat with him. Dan's family dog Gladys (a pit-lab mix) and Felix were instant best friends, tearing around the huge backyard at lightening speeds and lounging in the shade under the bushes. Dan and I are so happy to have a new little buddy in our lives. He has needed a few treatments for some intestinal parasite as expected, but he has come into his own and since treatment really pepped up. He has got a great new haircut for the extreme summer we have had and enjoys lounging in his kitty pool. He is going to have a great life full of great adventures and lots of love from both four and two legged friends!! My trip was amazing but being able to snuggle Felix and give him all the love he deserve makes it that much better!
1 Comment