Tod Emko, President, Darwin Animal Doctors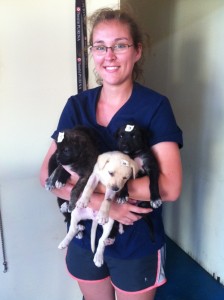 From the most prestigious National Police dogs, to the most invisible street animals, DAD is treating every animal on Galapagos that would never have received veterinary treatment or relief from their suffering.  For the first three weeks in June, DAD treated 211 animals for injuries, illness, sterilization, parasites, and chronic conditions, across two islands of Galapagos.
Just as important as the spaying and neutering of animals, DAD volunteers teach each our patients' owners how to be good stewards of animal life and their environment in Galapagos, emphasizing the importance of good animal care and de-parasite treatments.  In our spay/neuter campaign, DAD volunteers also test each patient for infectious diseases that would complicate surgeries.
There have been heroic and dramatic moments aplenty this summer.  At the invitation of Sea Shepherd, we continued treating the National Police dogs that stop the poaching and smuggling trade on Galapagos.  We performed surgeries to bring animals back from the brink.  Regardless if the owner was wealthy or poor, DAD treated every animal with the dignity and loving care that all patients deserve.
We have countless more animals to treat this summer, and we can't do it without your help!  The animals, the volunteers, and the future on this UN World Heritage Site thank you for it!
4 Comments