Other ways to help
Donate veterinary equipment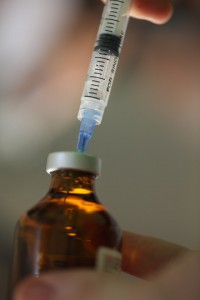 Do you have a clinic that's upgrading equipment? Donate your old equipment to Darwin Animal Doctors! Right now, we have a huge need for the following items:
Steam autoclave
Anesthesia machine
Blood chemistry analyzer
Pulse oximetry
Fluid pump
Doppler blood pressure monitor
We also need many smaller items in addition to the ones listed above. Items particularly valuable to us are suture, syringes, sterile surgical gloves, flea/tick/heartworm preventatives, dewormers, antibiotics, and pain medications. Please click here to download our current wishlist.
Adopt a Galapagos dog or cat
Adopting a dog or cat from Galapagos not only changes the life of that animal for the better and gives you a wonderful thankful companion, but it helps protect the Galapagos ecosystem.  And it helps show people that there are humane alternatives to poison campaigns to eradicate street dogs and cats in Galapagos.
Shop at our online stores
Need to Christmas shop? You can support us when you shop! Visit our online merchandise stores:
Any purchases you make through that links will benefit Darwin Animal Doctors. Bookmark that page for future purchases!
Buy and sell on eBay for Darwin Animal Doctors
You can support Darwin Animal Doctors when you buy or sell on eBay, with the eBay Giving Works program. Here's how: Darwin Animal Doctors is part of the eBay Giving Works program. So, you can support our mission when you buy and sell on eBay. Here's how:
Buy
You can find whatever you're looking for on eBay – from baseball cards to new cars and more. When you do, shop for items that benefit us. You can get a great deal and support DAD at the same time!
Sell
You can also support DAD when you sell on eBay. Just designate DAD to receive 10-100% of your final sale price the next time you list something great.
Did you know that charity listings often get more bids and higher prices than regular eBay listings? Boost your sales and support our critical work while you're at it! Plus eBay gives back to you too, with a fee credit on your basic selling fees.