We've tabulated our results for 2015, and the results are our best yet!
In 2015, we treated the most animals we have ever treated in one year, performed more surgeries than we ever have in a year, and trained local Galapagos students in our research and teaching clinic for 10 out of the 12 months. Thousands of dogs and cats in the Galapagos now have a better chance at life. And most importantly, those domestic animals will now be much less of a threat to the Galapagos ecosystem, thanks to spay/neuter and educating the owners on responsible animal care in a UN World Heritage Site.
In the past year, we have made a deal with the Galapagos National Park to assist them in saving wildlife, and to train their rangers in wildlife rescue. We de-parasitized over 1,800 animals to protect the native animals from invasive parasites! And we treated emergency cases ranging from car accidents to even electrocution.
Thanks to our sophisticated IDEXX lab, we performed high quality blood and urine sample testing all year, which enables us to test for diseases that can be transmitted to the vulnerable native fauna. We diagnosed and treated 70 animals with deadly invasive animal diseases, and just recently helped the Ecuadorian National Police K9 unit dogs (trained to stop poaching and smuggling in the Galapagos) with essential blood tests.
Here is an infograph of our successes. Our annual report is coming soon too, with more victories to read about!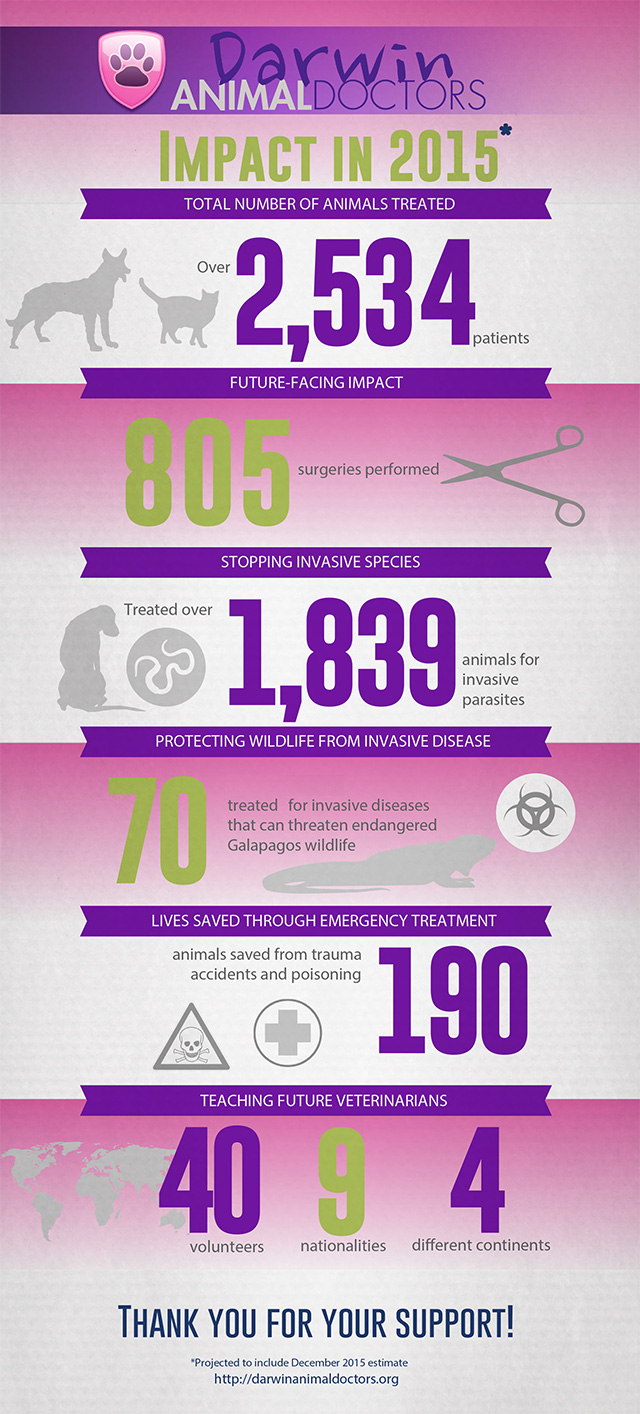 1 Comment