People behind Darwin Animal Doctors
Dr. Carmen Barba Claassens – Chief Surgeon
Carmen was born in Goirle, the Netherlands. As a child, she was always busy trying to save and help animals, bringing home wandering dogs and wounded birds, petting every animal that crossed her path. It was inevitable that when she grew up, she went into veterinary medicine. She began to study Veterinary Medicine at Utrecht University, graduating in 2012. After graduation, she worked for two years in an all-round clinic in Veenendaal, the Netherlands, which she enjoyed very much. But there was always this feeling that she could do something more, to make her talent more useful for the animals that needed it the most. So in June 2015, she quit her job and traveled to Asia, where she helped animals in need in Sri Lanka, India and Nepal. Knowing DAD board member Dr. Jochem Lastdrager from the time they studied together, she was very interested in the work he was doing in the Galapagos. When he told her they needed a veterinarian for 2016, she said yes and signed up for this new challenge!
Rene Heyer
Born in Zurich, Switzerland and educated in Geneva, he studied business administration and hospitality, graduating from the Hotel School of Geneva. His first international contract within the hotel industry was with a major chain in Thailand followed by further management experience in Mexico and all over the world within the cruise ship industry. Later on in his career he studied financial management & sales and marketing techniques at Cornell University in USA. Rene speaks fluent English, German, French & Spanish with some knowledge of Italian.
Following a career move to the Galapagos Islands in 2000, Rene became interested in local island communities and created the Nova Galapagos Foundation to inspire and engage their interest in the heritage and future of Galapagos through the promotion of education on the islands. During 5 years as a general manager, based in Ecuador and Galapagos, he became aware of the growing threats to the islands' unique natural environment and wildlife by tourism development and increasing population stress.
Reflecting on his early days in Switzerland and 30 years of working in international tourism, he realized that the long term success of the future protection of the Galapagos islands was in the hands of the islands' next generation, the youth of Galapagos.
Rene's wife, Susan from Wales, UK, studied Marine Biology and Oceanography at University and dreamt of one day diving around the famous archipelago. While living for several years in the South West of France, enjoying the rural life and her beloved labrador Emma, she taught English to the Airbus engineers from Toulouse and made regular trips to Galapagos to join her husband Rene on the islands and explored the fascinating underwater world surrounding the islands. Due to the poor health of her mother, she returned to the UK where she keeps in touch with the development of the Nova Galapagos Foundation and Darwin Animal Doctors.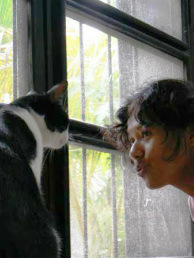 Mayra Alvarez
Born in Guayaquil, Ecuador she grew up in a very modest environment, her grandmother taking care of her until she finished school. Mayra was keen to continue studying, but unfortunately she was unable to do so as she had to take care of her brother and sister, which is unfortunately a great problem in Latin America.
In her search to improve life, she moved to Galapagos where she was able to settle down and earn enough to survive and help her family.
In the Galapagos, Mayra is invaluable to DAD. She processes the necessary paperwork to give all our volunteers legal volunteer status in the Galapagos, while working daily to make sure our clinic is up to code, from proper biohazard medical waste disposal to all the required safety permits. Outside the clinic, Mayra does outreach to the community, telling more and more people why spay/neuter is so crucially important on the Galapagos, so they start using our services. On campaigns, Mayra is the vital link between our volunteers and the community they serve, interacting with both to make sure there is maximum understanding between both parties. And now, Mayra is learning (through DAD mentors) how to become a vet assistant herself!
Tod Emko – President and Founder
Tod Emko is a conservationist from New York City. He came to Galapagos for the first time in 2008, serving with an international marine conservation group. While working to protect the marine reserve, Tod fell in love with the islands and wanted to ensure the survival of its amazing and important animals. He soon saw that veterinarians were in dire need in the Galapagos, where many introduced dangers threatened the local biosphere. He started Darwin Animal Doctors to fill the void and bring qualified vets to Galapagos to help all animals of the islands.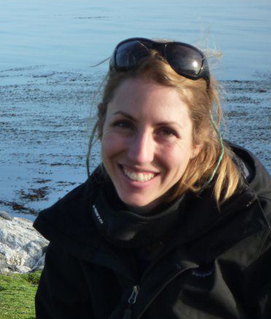 Andrea Gordon – Co-Founder
Andrea dedicates herself to saving lives and working for the public good. As a lawyer, she litigated for a nonprofit organisation in New York City for a number of years after earning her B.A. From Duke University and J.D. From Washington College of Law.
She utilizes her experience in law, nonprofit organizations and wildlife conservation to protect animals and nature.
Dr. Lorelei Wakefield – Veterinary Advisor, USA
New York City animal welfare veterinarian Lorelei Wakefield works with non-profit organizations (NGO's) to provide expert opinions on pressing issues. She collaborates with media to help educate the public on topics such as vegetarian diets for companion animals, factory farming, hoarding, animal cruelty and dog / cat overpopulation. Dr. Wakefield founded the University of Pennsylvania Veterinary Animal Welfare Society, a group that organizes educational sessions for veterinary students. Currently, she provides veterinary care and consulting services for the American Society for the Prevention of Cruelty to Animals. She is also a relief and house call veterinarian in NYC.
Julia Szabo – Board of Directors
Julia Szabo is an internationally-recognized journalist and healthy living advocate whose articles have appeared in The Purist, The New York Times, New York Post, Reader's Digest, Amazing Wellness, Cesar's Way, Dogster, Catster, and many other publications. She has authored numerous books, most recently Medicine Dog, a medical memoir about how caring for her dogs led her to her own best health. A longtime supporter of animal rescue and adoption, Julia lives in New York with her beloved family of rescued dogs. Follow her on Instagram and Twitter @petreporter1 and check out/follow @getdressedchangetheworld (her project designed to raise awareness of cruelty-free fashion and wildlife conservation).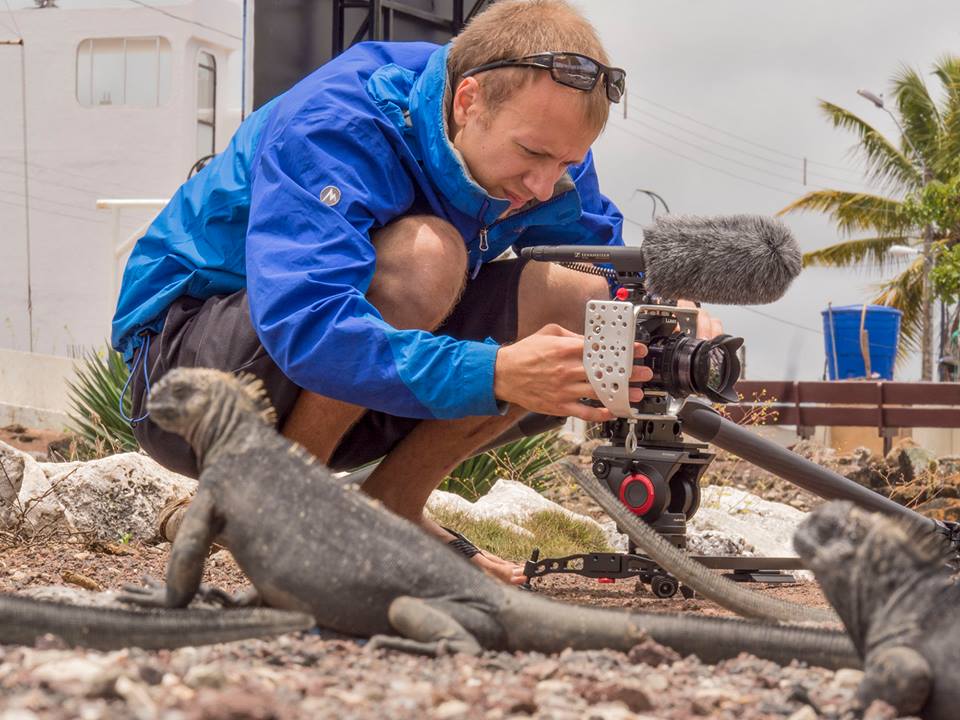 Sam Sielen – Visual Media Coordinator
From the busy downtown streets of New York City to the freezing waters of Antarctica and the remote islands of the Galapagos, Sam Sielen has been there with a camera capturing historical moments.
After graduating with honors and a BFA in film from his hometown University of Wisconsin, Milwaukee, Sam moved to New York City where he worked full time in the Visual Evidence Unit at the District Attorney's office in Manhattan filming crime scenes, editing footage for use in court, testifying and managing thousands of hours worth of video on a regular basis.
Wanting to do more for this planet, Sam joined Sea Shepherd where he regularly produced a variety of video and photo content year round for web and media distribution. Sam soon joined the Whale Wars team, and has been Director of Photography for the show on Animal Planet for two consecutive years.
He has been a camera operator for the Discovery show Tech Toys 360, as well as for the feature length documentary about childhood cancer, The Truth 365. In between projects, Sam works a video consultant providing expertise on workflow, gear, technical or creative assistance.
His passion stems from wanting to share world-changing stories. With a focus on animal welfare and environmental issues, Sam knows there is no shortage of stories to be told!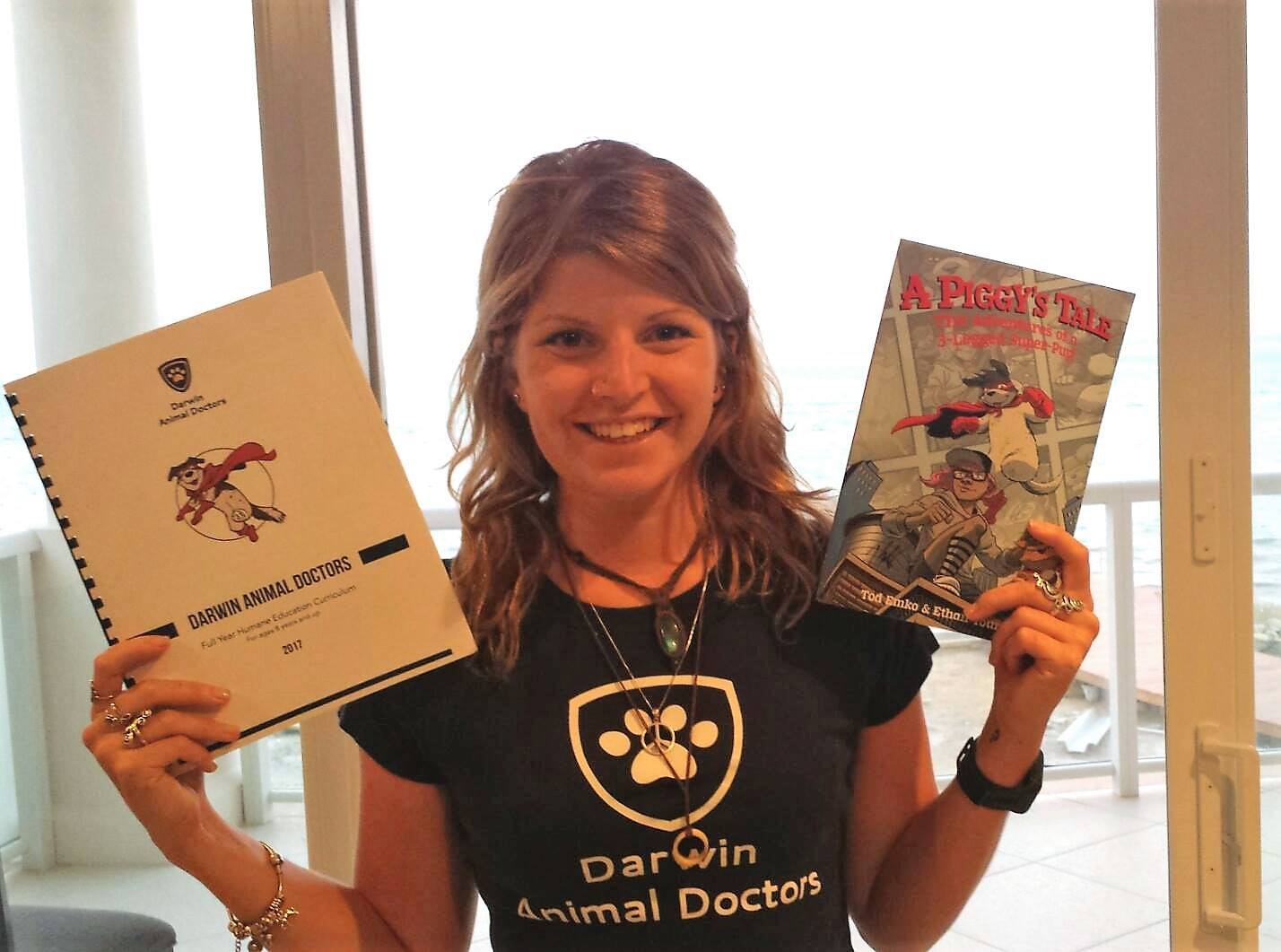 Michelle Green – International Humane Educator
Michelle was born in Toronto, Canada, but grew up in country-town Australia, surrounded by animals. From a young age, Michelle showed a strong love and connection with animals of all kinds; bringing home the stray and wounded, big and small – any animal that needed help. Growing up in a family that valued education, Michelle also understood early on the power and independence that knowledge gives individuals. In an effort to spread change through education, Michelle has since worked as a Youth Worker and educator in various countries worldwide.
Michelle first crossed paths with Darwin Animal Doctors while she was running an education program in the coast of mainland Ecuador. Moved by an organization that places so much value on educating and empowering communities worldwide, Michelle soon decided to come on-board and head our education department. Soon after, Michelle also began coordinating our volunteer programs, fielding hundreds of application per year, from countries all over the world.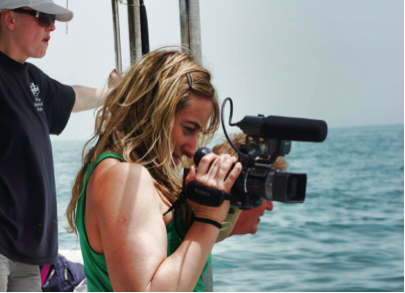 Sarah Jane Wang – Community and Local Volunteer Development
Born in the UK, Sarah studied Youth and Community work, Education and Development Studies. Sarah has over 18 years experience in youth participation and community development and education. Her work has taken her to Russia, China, USA, South Korea, Bahrain, France and New Zealand. Sarah has managed a variety of award winning youth participatory programs which enable young people to explore issues and express their views through creative platforms in order to effect change in their communities. Sarah has been involved in a variety of conservation projects and was an integral part of a Shark Expedition in Bahrain filming the documentary 'Short Time Dying.' More recently Sarah was an Academic Director in Beijing, China developing community outreach programs and such as Eco Ambassadors and Street Teach. Sarah has a keen interest in Island Communities and is keen to protect animals and support community education. She utilizes her expertise in youth participation, community development and education and is excited to be part of this global team.
Piggy – Spokesdog & Educational Mascot
Piggy is our 3-legged rescue pup who stars in DAD's humane education superhero comic, A Piggy's Tale! He is our daily inspiration for ensuring all animals of the Galapagos have access to life-saving medical care.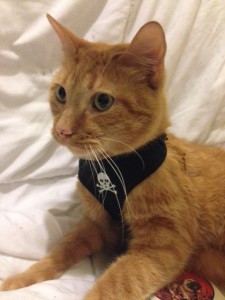 Simon – DAD's first patient and Piggy's sidekick
Simon was our very first patient, a sick, tiny kitten who was determined to survive the streets! He is now Piggy's sidekick in New York City.