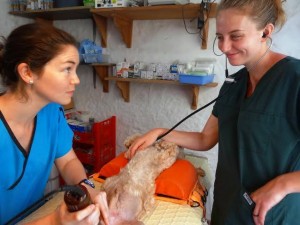 During the second full month of her stay in the Galapagos, our amazing Dr. Ainoa Claudin and her dedicated team of volunteers worked on a total of 239 animal cases, including 73 surgeries and 50 sterilizations, which is a good sign, as the public is making full use of the free veterinary service we provide for all the animals in this protected World Heritage site.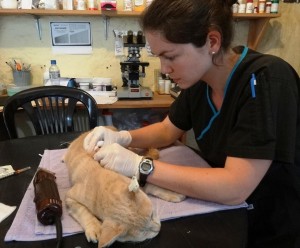 Educating the public has never been more important than now, and that is why it's a crucial part of our strategy to save the unique ecosystem of the islands. Reaching the minds and the hearts of the local people continues to take effect as we see more and more pet owners willing to give their animals the proper care they need, and thus, help other animals and the whole ecosystem. Our volunteers treat many different maladies like ear, skin and eye infections, and diseases like parvo, and they have the unique chance to gain important experience in real-life cases (like the 12 emergencies this month).
The number of general checkups is also impressive and tells us the local people are taking their pets' health seriously, which is another good sign that the work we do is effective. A pretty huge of percent of the cases we had this month involves spay/neuter surgeries, which is a huge success in our strategy to humanely reduce the number of invasive species on the islands and help protect the one-of-a-kind wildlife there.
See full report here.
Leave a Comment