Hello everyone!!
A couple of weeks ago we celebrated a huge milestone for our little non profit by turning 5 years old!!! To celebrate we had a HUGE vegan bake sale and partnered with a great group of businesses to have a raffle! Thanks to everyone who came out, and MooShoes for hosting, we raised more than we could have hoped for to help fund our clinic for the month! We even had a very special guest surprise us all, by coming all the way from the Galapagos Islands to see us!
We had lots of fun during the event and met lots of people and their pets! It was a day filled with sugar, friends and shoes! How can you go wrong with that?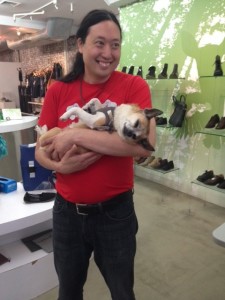 A HUGE thank you to all of the businesses and organizations who generously donated their goods and services to our raffle:
Luli Tonix
Mister Sister
https://www.facebook.com/MisterSisterNYC
Sweet Maresa's
https://www.facebook.com/SweetMaresa/
Squishables
Bake and Destroy
MooShoes
Lush Cosmetics
Terri
A Piggy's Tale
Jo-Anne McArthur
Please check all of them out! They deserve much success in the work they do and recognition for taking time out of their busy lives to help save animals!!!
Also a HUGE thank you to our vegan bakers Sam Sielen, Kim Diaz, Vivii Anna and Sara Flowers! We look forward to more tasty treats from all of you in the future!
We don't know what this next year will bring us but we hope year 5 is just as successful as the past 4 have been!!!!
Leave a Comment