November was a very successful month for DAD, both in the Galapagos at the clinic and in NYC with many successful fundraisers!! November brings our clinic patient total for the year to 1948! We also continued our humane education program via the ABG and treated between 50-60 animals per event!
In the Galapagos we treated a total of 197 animals and performed 68 surgeries. One of our patients included an owl, who was rushed to our clinic for eye removal surgery!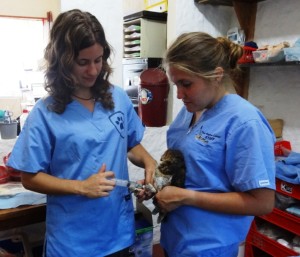 Back in the USA we held a series of bake sales that helped us raise over $1000! A big thanks to our Charity Pot partners LUSH Cosmetics and MooShoes for allowing us in their stores to sell delicious vegan treats and to continue to spread the word about DAD and the work we do! Thanks to all of our bake sale volunteers and DAD spokesdog Piggy!
A special thanks to our November Galapagos volunteers Maria, Ana and Michael!! We couldn't have accomplished all that we did this month without you!!