Santa Cruz, Galapagos
The Doctors first met Kitty (the dog) in June 2016. She was a scrappy little dog, but very sweet and a little shy. During her treatment, Dr. Carmen noticed that Kitty was missing a little hair on her eyelids and informed the owners of the anomaly. There was a chance that Kitty had mites, so Dr. Carmen advised the family to stay alert and return to the clinic if the patches of missing hair did not improve or worsened.
Nine months passed and Kitty did not return. The Doctors hoped for the best and figured the little pup had made a full recovery. However, the Doctors were met with a strange surprise.
One evening, Kitty arrived at the clinic almost unrecognizable. She was almost totally bald – and oddly enough, colored purple from ear to paw! The owner reported that Kitty had developed a terrible skin condition over the last three months. She was taken to another vet on the island and treated with an injection and some vitamins, yet her skin only worsened. Out of desperation, the owners covered Kitty with a purple spray which was suggested by some of the locals as a solution to her situation.
Yet, Kitty was infested with mites and developed a secondary skin infection, which worsened her hair loss, open wounds, and sores. She was in need of a prompt and appropriate treatment. The Doctors treated Kitty and sent her family home with strict instructions to return in one week, in addition to her monthly mite management visits.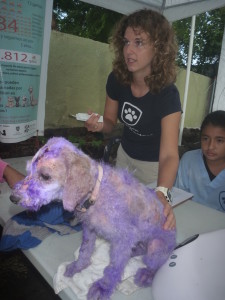 Luckily, Kitty returned a week later and the Doctors saw rapid improvement. Her hair was starting to grow back and her open wounds and sores were gone. The Doctors were very pleased to see Kitty so happy and healthy – although, still a little purple!