Morgan Nabhan, campaign leader and 2nd year UPenn Vet student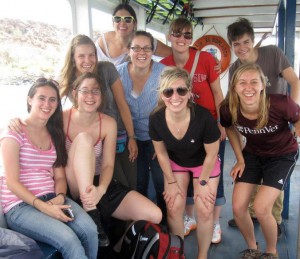 For two weeks in June, I led a group of 8 veterinary students, 1 medical student, and the incredible veterinarian Dr. Seina Capp on an exciting and memorable trip to volunteer at the DAD clinic on Santa Cruz.  This was my second real trip with Darwin Animal Doctors, though back in the US I have put in countless hours fundraising, planning, and developing protocols since first meeting Tod in 2010.
The Penn Vet students had been looking forward to this trip for months, and our campaign was an incredible success.  After a two-day journey with minimal sleeping opportunities – a car ride from Philly to JFK, three flights, a bus, a boat, another bus – everyone arrived at the Puerto Ayora clinic in remarkably good spirits.  Nothing was going to damper the incredible feeling we had knowing that we were providing supplies, equipment, and skills that the animals of Galapagos desperately needed.
After unpacking the 18 bags full of supplies, having a team meeting, grabbing a quick dinner, and sitting down for what felt like the first time in years, we were greeted with our first emergency of the trip.  Latika, who has been mentioned many times now on the DAD blog and Facebook page, was bleeding and in shock on our doorstep after a collision with a streetcar.  Her story is recounted here for anyone who missed it.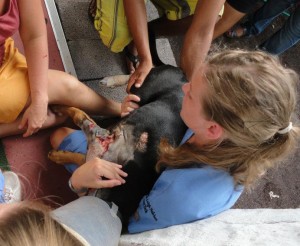 This was the first test of our team's abilities to work together, think fast, and put our skills to use.  Even after the long and stressful journey, the students and Dr. Capp jumped to their feet and responded with incredible compassion and competence, stabilizing Latika and ultimately saving her life.  The response to this first case foreshadowed an incredible two weeks that were completely jam-packed with life-saving opportunities.
With each animal that entered the DAD clinic, it became more and more clear that the veterinary care we were providing was absolutely essential for these animals.  I think that at one point or another, each one of my volunteers looked at me with concern and asked "But what do they do when we aren't here?"  The difference we make in the lives of the cats and dogs and their owners is, at times, startlingly real.  The knowledge that the animals we treated literally would have died without us is a reminder of a sad situation, but it is also a driving force to do all we can to give them access to the veterinary care they need.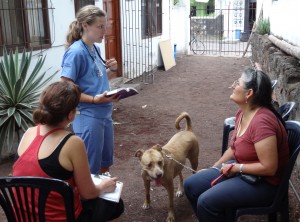 One of the issues that immediately became apparent was the lack of very basic humane education on Galapagos.  Some of the medical issues we saw on our campaign have been all but eradicated in the developed world.  Nutrient deficiencies and infectious diseases that we could prevent with vaccination are quite a different scenario from what we are used to seeing in the states.  In vet school nutrition class, we learn how to spot nutrient deficiencies, but we rarely see them in practice because of the widespread availability of commercially balanced diets that we buy in the grocery store.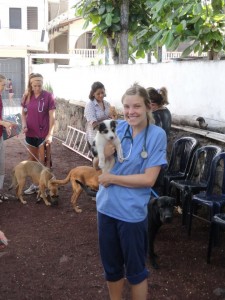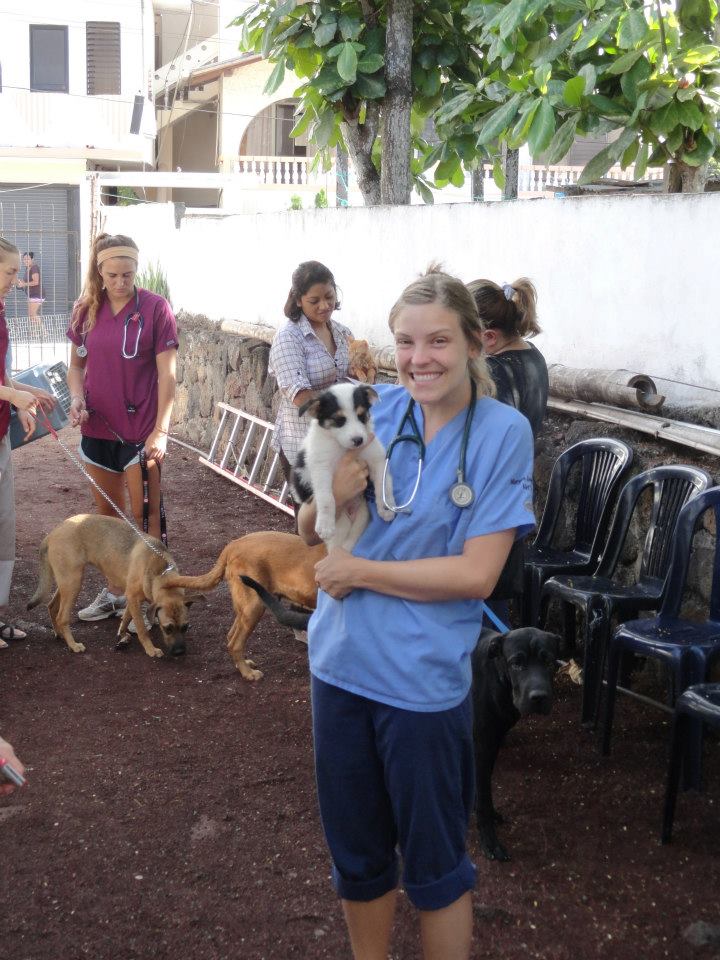 A case that I will remember forever was one of a tiny puppy named Seos who was having trouble walking.  He was uncoordinated, weak, and could barely stand on his own.  To my inexperienced eyes, my first thought was a serious neurological disorder, and I immediately brought him inside to show Dr. Capp. During history taking, I learned that they had been feeding him a diet of bread moistened with water or sometimes cow's milk up until a week or so ago, at which point his appetite and energy level declined, so they switched to feeding him Gatorade.  When I went back inside to relay this all to Dr. Capp, she was saying, "you know, this kind of looks like a calcium deficiency, what are they feeding him?"  Her suspicions proved to be consistent with the history.  Though we didn't have the ability to do bloodwork, we did have a donated bottle of calcium and vitamin tablets, so we gave them a try! What looked to me like basically a death sentence turned out to have a remedy as simple as calcium supplementation and feeding a balanced diet.  We gave Seos's owner the calcium tablets and told her where to purchase puppy kibble.  Within 3 days his gait was almost back to normal, and by the end of the week he was sprinting around like nothing had ever happened to him.  Seos's story was completely preventable with something as easy as feeding dog kibble, and it is testament to the importance of educating the public on how to appropriately care for their pets.
During our two weeks on Galapagos, we gave veterinary care to animals who otherwise would have had nothing.  We gave treatments for simple problems like parasites, provided emergency medical and surgical care, and gave owners the information they needed to continue to care for their pets at home. We removed a foreign body obstruction from a dog's intestinal tract, we stopped massive blood loss on a spay that had been performed incorrectly at a government facility, and we repaired a broken jaw that a puppy have been living with for weeks.  We spayed and neutered more than 80 cats and dogs and directly helped control the growing domestic animal population. More than just this, we set a good example for the citizens of Galapagos by showing them that we genuinely care about the wellbeing of their animals and the ecosystem there.
Throughout this next year we will continue to collect supplies and funds to help with our future DAD campaigns. We want to reach as many animals as possible and expand our diagnostic abilities. We will be continually improving our education materials to match the demand on the islands.  Thank you to all the wonderful people who have donated supplies, funds, and time to help make this trip such a success.  We couldn't have done it without you, and your contribution to the lives of these animals is priceless.