The Galapagos National Park Directorate, with the help of the Galapagos Conservancy, is carrying out the Giant Tortoise Restoration Initiative to restore giant tortoise populations across the Galapagos Islands.
Sadly, in the past giant tortoises were exploited as a food source and later for oil, which combined with habitat destruction and threats caused by introduced species, resulted in their numbers being drastically reduced. Of fifteen species of giant tortoise, only eleven remain today –most of these endangered. The giant tortoise has an important role in an island ecosystem, helping to shape the landscape, spread seeds and, creating the habitat for other Galapagos plants and animals found there.
In 2015, Darwin Animal Doctors entered into an agreement with the National Park to be able to treat wildlife in certain situations. Since then, this agreement has developed into a working partnership where Darwin Animal Doctors became the on-call Wildlife Rescue, and work alongside the Park in various wildlife cases.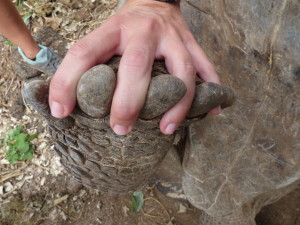 The Park runs three rearing centres where tortoises are raised to help build up wild populations. Recently, at their centre on Santa Cruz Island one of the adult tortoises had decided not to eat. Without much knowledge available on how to treat a hunger striking giant tortoise, it was definitely a difficult case for Dr Andrea, the Park vet, who called in the Darwin Animal Doctors to help. Dr Carmen suspected an infection, and prescribed a combination of pain killers, anti-inflammatory and antibiotics. Replacing fluids was also important. As well as receiving subcutaneous fluids, Dr Andrea suggested to move the tortoise to a shallow pool where he could just sit and absorb water. After some further research, Dr Carmen agreed that this could be very helpful.
The day after the treatment, the Doctors received great news; the tortoise was happily eating again and sitting in his pool. Now, if the Park ever has another tortoise refuse his food, thanks to Dr Carmen and Dr Andrea, they have some guidelines on treatment.
Not only is it great news to hear that  the tortoise is now back to full health, but Darwin Animal Doctors are very proud to have been involved in such a remarkable initiative. The Galapagos National Park Directorate and Galapagos Conservancy, are working every day to restore the famous Galapagos giant tortoises across the Archipelago. For our Doctors it was incredible to be able to be part of this history making project.
For more information on the Giant Tortoise Restoration Initiative, please visit the Galapagos Conservancy website at;
http://www.galapagos.org/conservation/conservation/project-areas/ecosystem-restoration/tortoise-restoration/