This past Monday, Dr Jochem was called back in for an emergency – the previously sited ocelot had been turned in to the clinic.
Over the previous weeks, this poor ocelot had been sited at various locations on the island – supposedly wearing a collar. Concern only grew for the poor cat when reports came in that he was injured and not able to walk properly. The endangered animal needed help, and needed it fast.
The clinic team jumped into action and began asking the public for help in finding and bringing the injured ocelot to the clinic. Attempts to catch the cat had been unsuccessful as he would continue to hide in unreachable places, but, finally, a few days after his initial sighting the poor, injured cat was caught and brought in.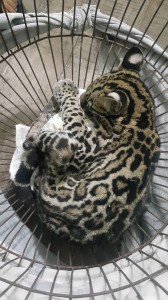 As Dr Jochem arrived, the clinic tech had the cat on the table and was giving him much needed fluids. The Doctor then gently and carefully inspected the cat to make sure he had no further injuries. His hind legs were in terrible condition, with severe muscle atrophy, leaving his back half looking like just skin and bone. With drag injuries to his legs, it was clear that he had been in pain, hauling himself around for quite some time in this condition. He had probably not eaten in a long time, unable to catch prey with such injuries.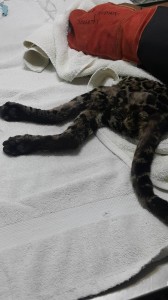 As the clinic team contacted the Belize Wildlife and Referral Clinic, The Doctor searched for something that the wild cat might be able to eat. In the end, the best solution available in the clinic was a mixture of wet and dry cat food.
Arrangements to transport the cat to the Wildlife Clinic on the mainland were made and the cat was put in a holding cage to rest for the night. Dr Jochem knelt by the cage and put the bowl of food in, hoping the cat's excessive hunger might lead him to try to the unfamiliar food. Surprisingly, he went straight for it. While there was no collar on the cat when he arrived, with the pattern of his hair around his neck and previous reports suggesting that he was wearing one, and his quick reaction to cat food it, definitely seemed that he had been illegally kept as someone's pet.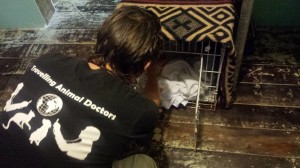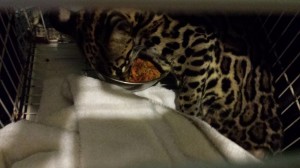 The next morning, the cat was on his way to the Belize Wildlife and Referral Clinic. The clinic team did an amazing job getting the attention of the public in order to have the cat brought into the clinic. While he has a long way to go to recovery, he will be in very good hands in the Wildlife Clinic.
The Belizean Ocelot is an endangered and protected species. This animal should never be kept as a pet, and any suspected cases of such should always be reported to the correct authorities.
Thank you to everyone involved in getting this particular cat back to safety.