Marsha Villarroel, Volunteer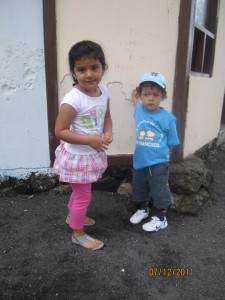 I taught English to 3 year old kids and 4 year old kids in 2 seperate groups at a daycare and DAD helped provide activities through their Lush education program for English that I was able to use.
I read them books that had important messages surrounding compassion for others for instance and that often included animals. Children like visual activities and enjoyed looking at the pictures, classifiying objects in the pictures by number and color for instance and learning to identify emotions of the characters in books in English and Spanish.
They particularly liked the stack of picture cards that I brought with me, many of which had pictures of animals and the names of the animals in English on the back. They enjoyed it when i handed each of them a card and they would tell me the name of the animal in spanish and i would tell them its name in english and then exchange it for another card from me so that the cards continually rotated throughout the room. The 4 year old kids were particularly imaginative and occasionally liked to flip through the story and create a basic plot line for the story based on the pictures alone, which they enjoyed sharing with me. For example, on a story depicting farm animals, they would make up basic plot lines about a conflict between the animals and a friendship forming at the end, which seemed to be based on the expression on the animals faces.
Both the 3 year old and 4 year old enjoyed recess/recreation time, and I think they would respond well to learning English if more games were developed to make it a fun experience for them.