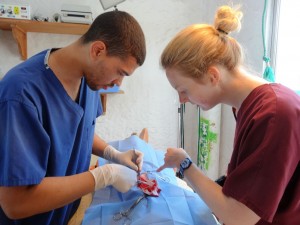 Our first vet of the year, Dr. Ainoa Claudin, arrived in January, and February was her first full month. She's already lead a team of volunteers from Galapagos, Britain, and Norway. And in their first full month, they've treated 181 patients.
One of our measures of success is the variety of ailments we treat in our patients. Seeing a wider variety of problems means that clients are starting to take their animals' health seriously. Our education programs are reaching more people, and more clients are starting to notice when their animals are having problems that need to be tended to. We're now treating all kinds of diseases, infections, parasites, accidents, tumors, and of course, sterilizations. We've had to perform euthanasias, but at least we can be a humane option for terminally ill animals.
Also, more and more clients are bringing in patients for general checkups, which is a huge victory. Preventative medicine is a much more sustainable health model than just treating emergencies.
Read our vet's full February report here.