By Michelle Green, DAD Earthquake Relief Team:
Bigua and his owner are other long term friends of the Travelling Animal Doctors (Darwin Animal Doctors), having supported the team in the previous campaign in Canoa. On arrival, the team went to the house/hostel of the owner to check up on her, her daughter and their two dogs and three cats. The team found that the family had fled to safety and the hostel grounds were being used for a volunteer organisation base. Meals were being prepared and volunteers came in to see where they could best go out and aid the community. Part of the work organised out of here was to set up feeding stations for the displaced animals of Canoa. Travelling Animal Doctors offered up a large amount of dog food in order to support the feeding stations and did a general check up to the now five dogs and three cats that were being homed in the volunteer centre. All the dogs were doing pretty well, minus Bigua.
Bigua had apparently been attacked by another dog at some time around the earthquake. His right ear was badly wounded and, as it had been left untreated for some time, had developed into a 'cauliflower ear' and was becoming infected. As a particularly special dog to Jochem, he also quickly noticed that Bigua was not only injured physically, but was definitely acting very differently. Normally a playful, bold dog, Bigua was quiet, reserved and almost timid. Jochem realised that Bigua was, in fact, suffering psychologically from the earthquake as well, something that can often be quite overlooked in animals. Bigua experienced the same fear that people did during the quake, but without the explanation of what was going on. Moreover, Bigua's owner fled after the earthquake in order to get her young daughter to safety, leaving the dog in a changed environment without his usual support. After cleaning and treating Bigua's physical condition, he explained to the volunteers at the camp that Bigua would need extra love and attention to be able to overcome his stress and return the happy, bold dog that he is.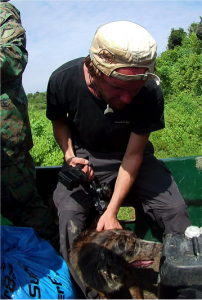 The volunteers were ready to help, but Bigua had a different agenda. With a strong connection to Jochem, Bigua would not leave his side and followed Jochem back to his camp. Jochem spend the next two weeks treating Bigua's physical wounds, and going above and beyond, spending any chance he got playing with the dog and showing him that extra love and attention. Bigua slowly returned to his more upbeat and bold self, and by the time his owner returned, Bigua was a happy, healthy pup again (which put a giant smile of the face of his owner).