We would like to say a huge THANK YOU to our wonderful friend and vegan chef Raffaella Tolicetti for coming to the Galapagos with us and cooking delicious vegan meals for our volunteers! All this wouldn't have happened without the amazing support from A Well Fed World (you guys rock!!), so please keep up the great work! Here's what Raffa says about her experience volunteering for DAD. Enjoy!
Cooking Vegan in Galapagos
by Raffaella Tolicetti
When Animal Darwin Doctors told me 
I could come and volunteer as a vegan cook in the clinic in Santa Cruz, Galapagos, I had no idea what ingredients and food I would find there. I have been vegetarian first then vegan all in all for almost ten years and a vegan cook for the past 4 and a half year, on board of the Sea Shepherd ships, sailing all around the world. So coming to cook in the Galapagos would be a totally new experience for me.
Luckily when I arrived I got told that we could count on a 1000 dollars donation from A Well Fed World to buy food and pans, which helped immensely. Being an archipelago in the middle of the Pacific Ocean, a lot of food come to the Galapagos shipped from the continent, which means that it tends to be more expensive (twice as much) and also more scarse. If something runs out, you might have to wait until you can get it again, which in a way reminds me of times at sea, when you can't just go at the local shop to buy the ingredient that just went missing. You just have to be creative and do without.
And for a cook this is maybe the more exciting part. I have no fun cooking with ready meals, pre prepared food or sauces, cake mixes. What I like is to be able to create something out of what I have, something that I probably wouldn't have thought of if I had tons of ingredients or recipes to follow to the letter.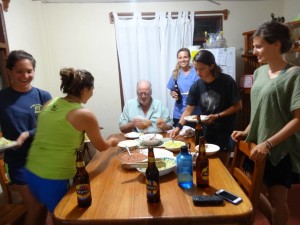 As a vegan cook you already have to be extremely creative, because what a lot of people expect from you is to re-create non vegan meals in a vegan way, substituting eggs, milk, meat or fish with plant based ingredients. That's why we make seitan, tofu scramble, soy ricotta or cashew cheese, out of many other.
But being vegan without access to nutritional yeast, soymilk, tofu or any of those usual "replacement" ingredients is even more fun.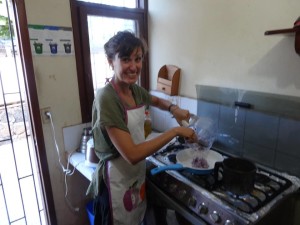 Cooking is also a political act, because as a consumer you can decide which impact you want to have on the world around you. The fact of not eating animals is already a huge ethical factor of the vegan diet, choosing not to kill and exploit animals for your meals. But there is even more to that. Going to the market, eating local food, reducing the packaged ingredients, sharing vegan meals with a community are all little big things that I could do in Galapagos. As I said before, a lot of ingredients are brought from the continent, so I would go to the market and get as many fresh and local fruits and vegetables as possible. On the islands they grow bananas (guineos), tomatoes, plantains, papayas, and so much more that I could buy every day and that would taste delicious. The woman at the market noticed that I would come every day and buy a fair quantity of food, and so we started talking. I explained her what I was doing, and a lot of people on the island appreciate the work of DAD because it is fundamental to the survival of the beautiful ecosystem of the Galapagos. Going to the market was also a way to reduce the use of plastic, with all the organics getting recycled into a compost afterwards.
I also found a little shop that sold soy meat, for the joy of the meat eaters at the clinic. I talked to another woman at a cooking shop and she told me that sometimes she would herself use that soy instead of the chicken for the main traditional dish, rice and chicken. So the idea to use something else than meat didn't sound crazy to her and I am sure a lot of people would appreciate it if they had more access to it. It seems that if only for a health issue, a lot of people would benefit from a switch to a more plant based diet, and in that sense it is possible to have a balanced and healthy vegan diet in Santa Cruz. Beans and legumes are another good source of proteins that I found easily at the market, as well as quinoa and linseeds, two essential ingredients in a good plant based diet.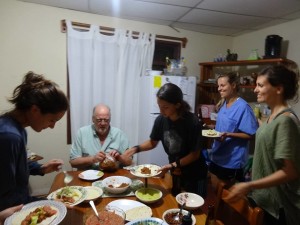 After all, quinoa was cultivated some 3000 years ago by the Incas that would call it "the mother of all the grains", and knew already about its incredible nutritional values. Nothing new then, just going back to some often knowledge that we often seem to have forgotten. But there are actually no reasons why you shouldn't have a cruelty free, tasty and healthy vegan diet while volunteering at the Darwin Animal Doctor clinic, while saving more animals!