Conny was brought into the Darwin Animal Doctors Galapagos clinic after she had supposedly just collapsed. The 5 month old puppy was very unwell. She was exceptionally underweight, had diarrhea, was very dehydrated, covered in fleas and appeared to have severe anemia. The Doctors ran a blood test and discovered that she was indeed extremely anemic. She was in desperate need of help, and the Doctors knew that the only way to save Conny was to do a blood transfusion. The team turned to Yara, a very loved dog of Rene (one of the organization's members) who has found herself being a volunteer for blood transfusions more than once in her life…
The Doctors prepared the ever compliant Yara, and collected enough blood so that Conny could receive a healthy and life-saving donation. After the blood transfusion, Conny also was treated with antibiotics and a deparasite treatment. Thanks to the treatment, little Conny began to improve quite rapidly and was even able to go home that evening. The next days will still be critical for her, and so she will return to the Doctors for continuing care over the coming weeks.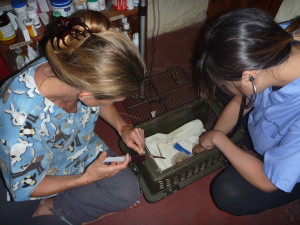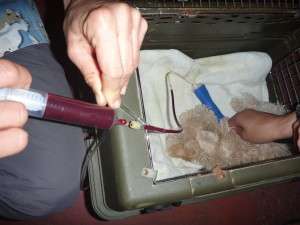 A big thank you to Yara for donating blood this time, and every other time that she has been called on! What a hero!