On a Friday night, after a long hard week, the Darwin Animal Doctors closed the clinic and sat down to share dinner together. However, unlike many of us, veterinarians cannot just decide when a work day, or week is done.
As soon as the team had finished their meal, and looked to heading home, there was a knock at the clinic gate. A family stood at the clinic entrance, holding a pug, saying that their dog needed help. The pug was in labor, but had something called "dystocia" or "obstructed labor". An emergency situation, the Doctors were straight back to work.
As the Doctors inspected Charo, they could feel a puppy in her birth canal, and her cervix was open. However, the little pug was not pushing. As it was still theoretically possible for the puppy to come out, and Charo to give birth normally, the Doctors gave Charo an injection of oxytocin to make her push. Then, they had to wait.
Forty-five minutes later, Charo had still not given birth.
The Doctors knew that there was now no choice but to give Charo a C-section. The surgery was a difficult one, and would take all five members of the team. Dr Carmen and Dr Majella teamed up to conduct the surgery, with Dr Giacomo managing the anesthetics and Annemette and Karina taking care of the puppies. As the team worked steadily, there was a frightful moment as Charo's heart slowed, putting her in a very vulnerable state. Thankfully, Dr Giacomo calmly and carefully responded, and returned Charo's heart beat to a normal rate, saving her life.
Charo ended up giving birth to three healthy puppies, and Mumma and bubs were all able to go home with the anxiously waiting family.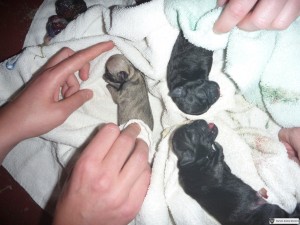 Finally, at midnight, the Doctors were able to call it a week and go home themselves.
Thank you to the dedicated team down in the Galapagos clinic who will always go above and beyond in order to care for an animal – even in the middle of the night.