Most nights when we finished clinic and were about to leave for dinner, there would be somebody at the gate. If it wasn't someone with an animal in their arms, it was someone stopping to read the notice on the white board: "Free castration for cats and dogs". If I went to see if they came by for an animal, they usually said they were just looking, or that they would come back tomorrow with their pet.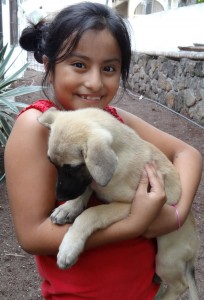 Darwin Animal Doctors has a presence in Puerto Ayora. Looking back at clinic logs, one can tell that we have a handful of regular clients who have brought in their animals to receive veterinary care. I was encouraged by this fact—our little clinic built on donations and hard work was just starting to become a fixture in a community.  Some days of our campaign were slow, but by the second or third day, once word spread from neighbor to neighbor, or they read our sign or heard our radio campaign, the animals steadily arrived at our gate.
There were some morning check-ins that were chaotic, but in a good way.  We usually stopped checking in animals once we felt we reached a reasonable number of surgeries for the day. We worked through lunch, finished surgeries around 3 PM, waited for animals to recover and then to see what cases would walk in during the afternoon.
Afternoon walk-ins were generally puppies with the same set of symptoms: runny eyes and nose, maybe with a cough, and not eating well. The very first afternoon we arrived in the clinic, we had a girl carrying a puppy that was very depressed, inappetant and ataxic.  The seven veterinary student volunteers had just started unpacking when she arrived.  The girl still seemed excited at the prospect of having seven vets attending to her puppy at the moment. We told the girl we would take a look, but that the real doctor would be there in about half an hour. Dr. Jenny  Ripka arrived at the clinic soon after, put down her things and when she came downstairs we explained the situation. The puppy, Escott, was very pale and breathing with some difficulty. His lung sounds were harsh. His young age and lack of a strong immune system weren't going to work in his favor, and realistically he would probably die at home if we let the girl take him. We kept him overnight for treatments and supportive care. Some fluids, penicillin and baby food later, he made it until about 6 AM, when we found him alive, but just barely.
At this point we had our suspicions that this was something contagious. The girl reported that the other dog at home was showing some of the earlier symptoms. Another puppy came in with advanced disease and started seizuring. Another had eye and nasal discharge and some blue cloudiness to her corneas. This was starting to look like distemper, a disease caused by canine distemper virus (CDV), though we couldn't confirm it. This was a disease that I have personally never seen in the US, and is uncommon in private practice because we vaccinate puppies for it, starting when they are 8 weeks old.
Unfortunately, viruses are not easy to treat, and we certainly didn't have any magic bullet to help these animals. Eventually we decided that these puppies shouldn't be brought into the clinic, assuming they were spreading infected droplets in our yard and on the floors. There wasn't much we could do for them, so we would give a few treatments at the gate and send them on their way.
While our main mission is to sterilize, a veterinary presence gives the community a place to turn. If there were no veterinary clinic, where do you take your sick puppy? And how would we ever figure out that there is something going around? In a way DAD has a new purpose—infectious disease surveillance of domestic species. And it is a good sign for us that so many owners knew where to find us.
If we thought a puppy had distemper, we would explain the basics of the disease, including the fact that it can be prevented by vaccination.  Most people were surprised to hear this, and it wasn't easy news to share. Unfortunately, these essential vaccines are not allowed to be imported or administered on the islands.  To us, puppy vaccination is routine and common knowledge, but it is different in Galapagos. In addition to teaching about vaccination and preventable disease, we aimed to send every animal home with literature written by DAD. One of these documents aims to educate owners about the basics of proper pet care—not to feed your dog table scraps, to always walk him on a leash, and so on. While this may sound very simplistic to us, we can't assume that these guidelines are known by all pet owners. We hope that with these documents and increased contact with veterinarians will serve to educate Galapagos pet owners to improve their standards of ownership.
On the issue of vaccination, it suddenly becomes very personal when an owner is cradling a very sick puppy, being told that his disease could have been prevented, and in most cases, his life spared. With ongoing education and the valuable work of DAD, I hope that sometime soon we will have a discussion with the local government and administration about humane medical care for pets, including the need for their vaccination. After the losses that some of these owners experienced, the people of Galapagos should demand it.