Santa Cruz, Galapagos
At the Galapagos clinic, our clients are a colorful bunch. From dogs to goats, tortoises to cats. Some clients are little angels and others are a bit naughty – like a pup named Rocky.
One day, Rocky left home on an adventure and returned with a large cut on her inner thigh. Her family was concerned about the wound and brought her straight into the clinic for treatment. The Doctors operated on Rocky immediately. They cleaned and closed the wound and inserted a drain to help the injury heal. Rocky was given an e-collar, sent home with her owners, and scheduled to return for a follow up in a few days.
On the day of Rocky's return visit, the Doctors expected to see a clean wound and the puppy well on her way to a full recovery. However, Rocky had been naughty – again!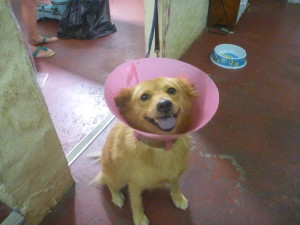 Despite the e-collar, the clever little pup somehow managed to lick her wound and reopen it. The wound was infected and the inserted drain was missing. Slightly befuddled, the Doctors put Rocky back on the operating table to clean and reclose the wound. This time, the surgery called for ingenuity to prevent little Rocky from outsmarting the Doctors once again. Dr. Babette used a specialized and complicated technique which surgically changes the shape of the cut to lower the pressure on the edges of the wound.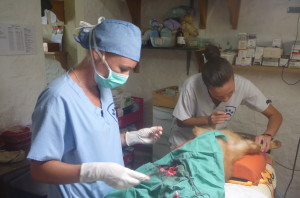 Just as Rocky woke from her second surgery, she began to vomit.
"And guess what came out?" Dr. Carmen recalled with a smile and much relief. "The first drain we put in!"
"So even though Rocky had an e-collar on," Dr. Carmen continued, "she managed to remove and eat her drain! Naughty, naughty little Rocky!"
Rocky will return for a check-up in a few days. Check back in to see how the devilish little pup heals!