Jack was roaming the highlands of Santa Cruz; hungry, sick and covered in fleas, ticks and mites. It is a tough life for a dog without a home, and Jack was truly bearing the brunt of it. That was, until one day, when a lovely resident found Jack and brought him straight to the Darwin Animal Doctors clinic.
The Doctors could see straight away that Jack was in terrible condition – anyone could. He was so infested with fleas that they could be visibly seen jumping around, even towards Doctors! The Doctors could also see that he had a very bad mite infestation. The infestation was so bad that Jack had gotten a secondary skin infection. His paws were swollen and painful, and his skin was so damaged and dry, that it would crack open and bleed at even the slightest touch. It must have been torturous for poor Jack, living on the streets in the extreme hot and dry conditions of the Galapagos Islands.
The Doctors treated Jack for the mites, ticks and fleas, and then also for his secondary skin infection. Jack was given antibiotics and his new owners were given a special medicated shampoo to help get Jack's skin back to health.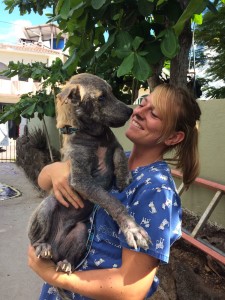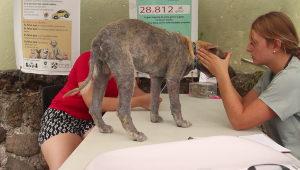 Two weeks later, Jack came back for a check up and he was already looking much better. The pads of his paws were no longer swollen and his skin no longer cracked, flaked or bled. The secondary skin infection was under control and Jack had even started to grow back his hair.
The Doctors were so glad to see such improvement in Jack, as were his new, proud family. Jack will return again in another two weeks, and then every month to continue his treatment and ensure that he returns to fit, full health.